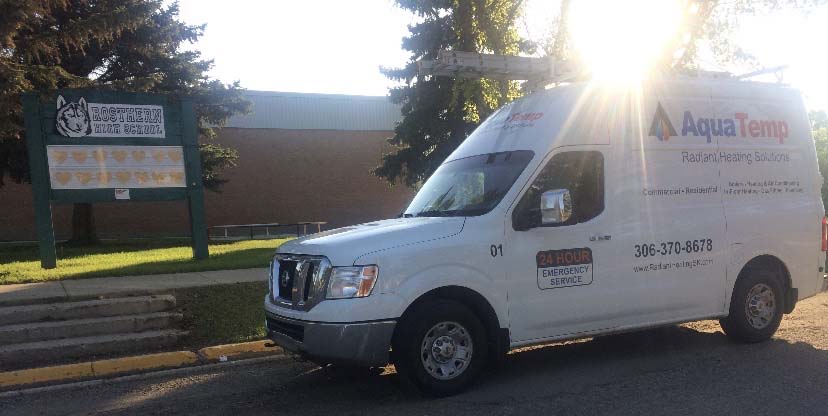 Water Heater Installation in Rosthern, SK S0k3r0
"Very satisfied with the prompt service and quality work from AquaTemp!"
- Rick F.
Water Heater Replacement in Rosthern, SK S0K 3R0
"Kaelan showed up within a half an hour of my call and had a look and by afternoon returned with a new water heater and a helper Tim. They removed and hooked up the new one fairly quickly considering we went from electric to gas. I am so thankful for how fast and efficient they were. I would definitely recommend them to everyone."
- Dawn K.
Air Conditioner Repair in Rosthern, SK S0K 3R0
"Kaelen has been excellent. He is very knowledgeable on the equipment and systems. He was very quick to respond for the service call and kept in constant contact with regard to his progress on the job. Very pleasant to deal with and very knowledgeable about selling new products when needed. Overall highly recommend AquaTemp and Kaelen to everyone!"
- Prairie Meadow P.
Boiler Replacement in Rosthern, SK S0K 3R0
"Very impressed with the service we received. A knowledgeable and friendly technician who is a credit to your company. We will certainly be happy to recommend AquaTemp."
- Ann H.
Gas Furnace Replacement in Rosthern, SK S0K 3R0
"I had a representative from Aqua Temp come to my home to give me an estimate on a new hot water tank and furnace, he was very thorough checking out my heat exchanger for any cracks and then going over many options to improve the efficiency of my heating system and hot water supply. He was very pleasant to deal with and easy to understand and he gave me several printed off options for new high efficiency system. I would recommend anyone to have this consultation done by Aqua Temp before deciding on using another company which might not be as detailed and informative – as an example another company gave me an estimate for a new furnace and water heater by email without even coming to my home."
- Eric W.
Gas Furnace Repair in Rosthern, SK S0K 3R0
"Excellent service. Friendly, knowledgeable and professional. If I could give more than five stars, I would. Outstanding work!"
- Laura D.
Boiler Repair in Rosthern, SK sok3ro
"always approachable friendly always willing to help"
- kevin g.
Ductless Mini-Split Installation in Rosthern, SK S0K3R0
- Lorne D.
AquaTemp is proud to provide the home and business owners of Rosthern with solutions to all of their HVAC needs.
Air Conditioning and Cooling
The experts at AquaTemp install and service all types of air conditioning systems in Rosthern, SK.
Whether you are looking to purchase your first air conditioning system or upgrade your current air conditioner to a more efficient unit that can save money on energy bills, we can help you determine what's right for your needs and budget. If you are happy with your current system, be sure to keep it running at optimal performance with regular air conditioner maintenance. It's easy to forget your air conditioner needs attention, until it's too late. Regular air conditioning maintenance prolongs the life of your air conditioning system, saving you money by keeping your energy costs low and repair costs to a minimum.
Do you have a new air conditioner? Even new air conditioners benefit from regular maintenance, which keeps them running efficiently and saves you money. Is your air conditioner not running as well as it should? Contact AquaTemp. We are fully equipped to fix and service any air conditioner problems in Rosthern, SK.
Contact us today at 306-370-8678 or request air conditioning service online to schedule a free in-home estimate or to have your air conditioner repaired.
Learn more about air conditioning.
Furnaces and Heating
AquaTemp technicians are experienced with heating and furnace systems in Rosthern, SK.
Are you looking to purchase a new furnace or upgrade your current heating system to run more efficiently? We can determine which furnace is right for your home. This is very important, as a furnace that is too small or too large won't operate at an efficient level, placing extra strain on the unit and costing you money.
When was the last time you had your furnace checked? The most likely answers are "never" or "I don't remember." Furnace maintenance is easy to forget, until you discover your furnace has stopped working properly and your home or business isn't as comfortable as it should be. Contact AquaTemp and request an appointment to have us check and service your furnace.
Do you have a new furnace? Even new furnaces benefit from regular maintenance, which keeps them running efficiently and saves you money. Has your furnace stopped working properly? AquaTemp is equipped to take care of any furnace service repair you need in Rosthern, SK. Contact us today at 306-370-8678 or request furnace service online to schedule a free in-home estimate or to have your furnace repaired.
Heat Pumps
AquaTemp has years of experience installing and maintaining heat pumps in Rosthern, SK.
Heat pumps are a smart choice when it comes to your home's comfort. They can be more energy efficient than traditional heating and cooling systems and can bring your energy bills down. As with any other aspect of HVAC systems, heat pump maintenance is an important way to keep your system running optimally. Don't wait until something isn't working properly to have your heat pump checked.
Is your heat pump not working as well as it should? AquaTemp has the technicians and experience needed to get your heat pump back in working order in Rosthern, SK. Contact us today at 306-370-8678 or request heat pump service online to schedule a free in-home estimate or to have your heat pump repaired.
Geothermal
Geothermal systems use the resources in your own backyard to efficiently heat and cool your home. AquaTemp has the experience needed to install, maintain, or repair a geothermal system in Rosthern, SK. Geothermal is the most ecological and sustainable option available for heating and cooling a home.
Water Heaters
AquaTemp is happy to offer our Rosthern, SK, customers two options when it comes to water heaters.
Many people are familiar with the traditional water heater. It works by storing water in a tank and keeping it heated to a preset temperature.
A tankless water heater is a new idea to many people. How does it work? As the name implies, there is no tank to store water. Instead, water is heated on an as-needed basis. A couple of the key benefits of a tankless water heater are that you are not heating water until it's needed and you won't run out of hot water.
Let the water heater professionals at AquaTemp help you determine which type of water heater is best for your situation.
Learn more about water heaters.
Indoor Air Quality
Between work and home life, the average person spends about 90 percent of their time indoors. Indoor air can be two to five times more polluted than outside air. In fact, the US Environmental Protection Agency (EPA) ranked indoor air quality (IAQ) as a top five environmental danger.
A well-insulated home can help with your energy bills by keeping a constant temperature, but that also leads to the same air being recycled through your home each time you run your air conditioner or furnace. Be sure you have proper filtration in place to prevent allergens and bacteria from circulating through your air.
AquaTemp can help you breathe easy. Call us today at 306-370-8678, and we can put together a plan for your home.
Learn more about indoor air quality.
Whole-House Generators
Nobody likes to be without electricity, and you don't realize how much you depend upon it until it's not there. Don't be left in the dark again. AquaTemp can explain the benefits of a whole-house generator to keep your Rosthern home running smoothly, even when the power is out.
Contact AquaTemp at 306-370-8678 for a quote. Our experts will evaluate your home and determine which generator is right for you.
Learn more about whole-house generators.
Air Ducts
According to the US Department of Energy's ENERGY STAR® program, leaky ducts in attics or crawl spaces can account for 20 percent or more of a home's heating and cooling energy losses. This makes it difficult to keep your house comfortable and can result in higher utility bills. Some signs you may have leaky ducts include:
High summer and winter utility bills
Rooms difficult to heat and cool
Stuffy rooms that never seem to feel comfortable
Ducts located in an attic, crawl space, or garage
Tangled or kinked flexible ducts in your system
Learn more about how you can detect, prevent, and fix air duct issues with the help of our professionals at AquaTemp. Find out more about duct testing, duct insulation, and duct cleaning, as well as how they relate to and impact indoor air quality.
Contact us at 306-370-8678 or request air duct service online today.
Plumbing
At AquaTemp, we put you and your home first. Our expert plumbers get the job done. Whether it's your toilet, sink, bathtub or shower, new construction, or a kitchen or bathroom remodel, we are here for you. From outside to inside, basements to attics, in Rosthern, SK, our plumbers are the very best. So if you have old pipes or need new ones, and you are in Rosthern, call AquaTemp today for an estimate or request plumbing service online.
Electrical
Are you remodeling or building? Is it time for a routine electrical inspection? Our electricians at AquaTemp are experienced, skilled, and educated. We are here for you in Rosthern, SK, for regular inspections and emergency service. Call us today at 306-370-8678 before an emergency happens, and we will keep you safe and up to code.
We cover major jobs like rewiring or breaker box replacement as well as smaller jobs like ceiling fan installations. Inside or outside, big or small, our certified and highly skilled electricians at AquaTemp are here to provide Rosthern residents with safe and reliable service.
Humidifiers and Dehumidifiers
The comfort of your home not only depends on the air temperature but also the amount of moisture in the air.
Cold weather typically means dry, uncomfortable air. Dry air can cause respiratory problems as well as damage wood furniture. Whole-house humidifiers emit water vapor to increase the humidity in your home.
On the other hand, hot weather can mean thick, humid air. This can lead to condensation on your windows, mold spots on walls or ceilings, and blistering paint or peeling wallpaper, just to list a few issues. A whole-house dehumidifier removes excess moisture from the air in your home.
Whole-house humidifiers can improve your indoor air quality, as well as positively impact the overall health of your family and health of your home. Controlling the humidity in your home will help protect not only your respiratory system but also your wood floors, furniture, and artwork.
Let our professionals at AquaTemp help you decide what's best for your home. Call us at 306-370-8678 or request service online today.
Learn more about whole-house humidifiers and whole-house dehumidifiers.