With technology installed in over 100,000 applications, iWave-R is the world's first self-cleaning, no maintenance needlepoint bi-polar ionization generator designed specifically for treating air in residential duct A/C systems. As the air flows past the iWave-R, positive and negative ions actively purify the supply air, killing mold, bacteria and viruses in the coil and living space. The ionization process also reduces allergens, smoke and static electricity, as well as controlling odors (cooking, pet, VOCs) and other particles (no more sunbeams) in the air without creating ozone or any harmful byproducts.
Features & Benefits
Patented self-cleaning design ensures ongoing peak performance
Needle point bi-polar ionization actively treats air in the living space
For duct systems up to 6 tons (2400 CFM)
Universal voltage input – 24VAC to 240VAC!
Universal mounting with magnets
Flexible design with no replacement parts
Kills mold, bacteria and viruses
Reduces allergens, odors, smoke, static electricity and other airborne particles
Keeps coil cleaner
Programmable cleaning cycle
Alarm contact option for secondary notification
UL and cUL approved
Three-year warranty*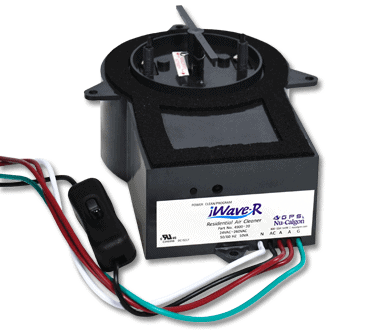 Sanuvox R Max UV Air Purifier
The Sanuvox R Max represents an evolution in UV for whole home air treatment. The high-efficiency patented design destroys airborne bio-chemical contaminants, while providing important user information on the 3" Back-Lit LCD display. With the ability to treat homes up to 4,000 sq.ft., the patented technology rapidly purifies the air and removes odors within the home.
Features & Benefits
Patented process including High-Intensity 19mm Quartz UVC/UVV 'J' Lamp
UV Chamber rotates 360 degrees for up-flow or down-flow systems
3'' LCD display provides important user information
Protects from airborne germs
Reduces common household odors
Helps alleviate allergies and flu symptoms
Helps control asthma
Sleep better
New Cobalt Catalyst destroys VOCs